NetQ Standard and NetQ BPO
Built on the Microsoft Dynamics xRM platform, NetQ is a comprehensive end-to-end solution that supports customers deploy network assets and infrastructure more efficiently while reducing overhead and rollout costs.
NetQ supports the full lifecycle of telecom network infrastructure assets through automated processes and intelligent workflows that can rapidly and cost-effectively be integrated with current processes. Moreover, the constructs and functionality can be easily applied just as well to other industries such as retail, utilities, oil/gas, and public safety.
 There is only one difference between the two editions of NetQ currently available: NetQ BPO includes an embedded Intelligent Workflow module that provides incredible versatility and numerous advanced BPM capabilities when compared against NetQ Standard.  Companies that lack robust enterprise workflow automation should seriously consider leveraging NetQ BPO's enterprise-grade capabilities.
What You Get In NetQ
NetQ is a modular business application that covers a large number of use case and caters to organizations of any size.  The underlying platforms are highly customizable, flexible and scalable.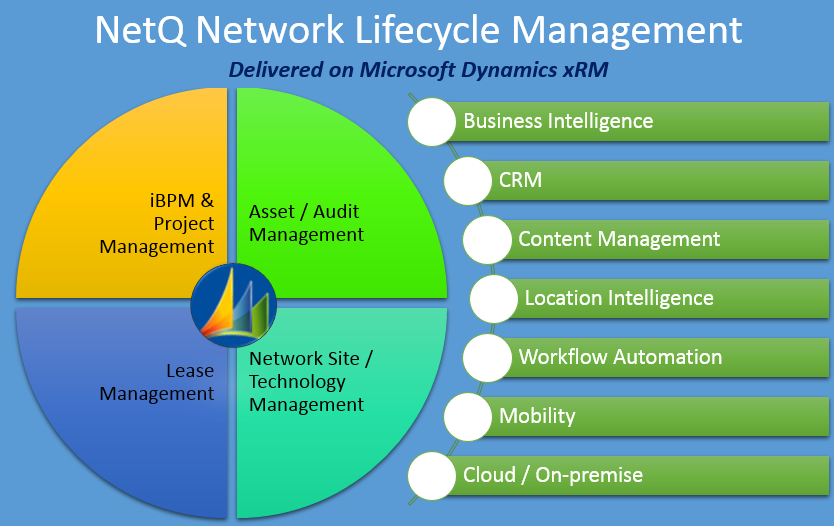 General Context (e.g. Telecom)
With the introduction of new technologies such as 3G, LTE, WiMAX and VSAT, widespread consumer adoption and continuing market deregulation, wireless and satellite communications networks are growing continuously. Market demand has put network operators under pressure to roll out or repurpose networks faster than ever. Implementing efficient and automated enterprise wide business processes is the solution for many network operators where they need to integrate communications, systems, data and people.
Smart Platforms
Linxoft strives to offer a sound user experience, reliable security and a flexible data infrastructure.   NetQ is delivered on the robust and extensible Microsoft Dynamics xRM architecture and can be deployed both on-premise and in the cloud, which is an important differentiator when compared to other software providers.
Configurable And Customizable Platform
NetQ offers configurable rules, processes, and workflows:
Get point-and-click customization and configuration.
Use personal, team, or organizational workflows.
Gain the ability to build processes with conditional branching and nesting.
Make the most of automated actions with triggers based on events, time, or business logic.
Find superior scalability and performance and benefit from high availability, load balancing, and clustering.
Solution Management
With NetQ, you can supplement your solutions with third-party plug-ins and applications:
Add and remove programs and features.
Get support for secure code on the server.
Stay on top of change management and versioning.
Extended NetQ Framework And Integration
Count on Linxoft or your IT team for rapid customizations, dynamic services, and prebuilt functionality:
Enjoy point-and-click customization of data management, workflow, user experience, access and security, analytics, and reporting.
Make the most of application integration based on well-supported industry standards and exchange data with your ERP, Supply Chain, and other enterprise applications.
Benefit from the extension of familiar and scalable technology stack, such as Microsoft Dynamics CRM, Microsoft Office, Microsoft SQL Server, Microsoft SharePoint, Microsoft Visual Studio, the Microsoft .NET Framework and Windows Server.
Mobility
Using Microsoft Outlook and mobile devices, NetQ users are able to accurately track each step in the process for multiple projects. Every step of the way from network planning and site acquisition, construction and system integration to optimization and network care is managed with ease.
Telecommunications
Below are the most common types of companies interested in our software products:
Mobile Network Operators
Launch networks faster by making the right decisions strategically at the right time.
Deliver projects quicker while appreciably decreasing overhead.
Empower the project team including subcontractors and vendors with the latest in efficiency innovations, smart site development and lifecycle management solutions.
Augment collaborative teamwork between carriers and service providers including turnkey managed services, site owners and project development vendors.
Turnkey Infrastructure Vendors
Deliver a project management organization that cuts costs while adding value to their services.
Allow more sites to be launched faster because of increased proficiency, service quality, and greater workflow management.
Give your organization an ability to compete in increasingly challenging marketplaces by managing resources and processes that give greater value at lower costs within the value chain.
Wireless Tower Operators
Reduce delivery time to the market with integrated workflow site development module.
Deliver higher tenancy ratio through world-class CRM for increased visibility with marketing, greater lead generation and increased sales opportunities.
Produce shorter sales cycles and greater customer satisfaction when using collaborative portals to streamline processes for site requests and co-location applications.
Maritime
Allow efficient planning and asset allocation for project managers of VSAT and Satellite Communications rollouts.
Allow technicians to use role-based portals and mobile apps to keep up to date records on task status, network technologies and data regarding equipment configuration.
Help deep sea merchant vessels operate more efficiently and aid in morale by keeping crews up to date with their friends and family.
Oil and Gas/Mining/Utilities
The remote locations of natural resource extraction and utilities make them a good fit for the unique abilities of NetQ to manage day-to-day activities at each location.
Personalized portals and mobile apps for different teams give management an ability to remotely manage and measure performance.
The asset and inventory management allows these organizations to track fixed assets throughout their lifespan, regardless of location.
Public Safety and Government
When telecom equipment needs to be deployed for the police, emergency response, or disaster relief, whether it is to a remote or urban location, NetQ can manage, supervise and track the installation and implementation activities for each individual location quickly and efficiently.
The asset management in NetQ allows you to not only maintain and record current configuration settings of all fixed assets including switches, alarms, radio transmissions and equipment but also have the ability to resolve issues related to the service or equipment at a particular location using the automated case management module.