Location Intelligence – Value
Location-based data and analysis have recently emerged as arguably the key missing links in fully understanding customers and business operations.  The concept of recording and using location information is not new – it has been inherent to most businesses over the years.  However, depth and scale of the analysis have been limited to a large extent.
The last decade has been dominated by understanding Customer and Time. The rapid advancements of Customer Relationship Management and Datawarehouse – Business Intelligence systems has taken this understanding to levels hard to imagine 10 years ago.  Location, in its newest sophisticated form, is a logical addition to the mix – and is rapidly growing in popularity and functionality given the rapid rate of adoption.
In simple terms, the use of maps and visualization adds clarity and depth to virtually any analysis, while increasing the ability to visually spot insights that would otherwise be impossible to notice by looking at complex and large datasets.  In fact, "geo-enabling" is becoming an extremely powerful differentiators for related domains.  For example, Analytics tools are assessed for geospatial technological capabilities when ranked by leading analyst firms.
Location Intelligence – Data Enrichment

In this day and age, most organizations recognize that enriched data provided through location intelligence is key to supporting the most fundamental themes:
increased revenues, improved efficiencies and lowered costs (private businesses)
improved collaboration and distribution of information; faster, more natural visualization; and decreased emergency response times (government)
Our location intelligence capabilities help organizations gain additional insights into their own operations, analyze trends geographically and make critical decisions with greater clarity.
Location Intelligence – Thematic Mapping

This type of mapping helps uncover spatial patterns that would be hard or impossible to identify in lists of numbers. Additionally, it serves as an effective and practical communication and comparison tool.
At a practical level, building effective thematic maps requires a clear understanding of the following:
purpose: revealing and communicating vs. decision-making
audience: critical in choosing the most appropriate method to develop the maps
data depicted: categorical vs. numerical
dimensionality: univariate, bivariate or multivariate, depending on how many data sets are shown
A very common use of these artifacts has been mapping out the organization's customers/prospects/constituents, often in response to certain actions or events, e.g. marketing campaign, survey or voting. However, Many other use cases have surfaced over the years, e.g. cell phone coverage maps (Telecom), crime rates (Insurance, Government), population density over time (Transportation) and a myriad of others.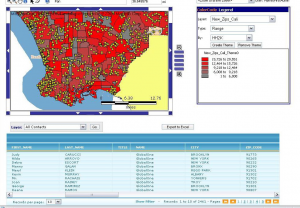 Location Intelligence – Analytics

Geo-Analytics is an effective analytical approach that can generate revealing reports and perform complex statistical functions, presenting results on a map. Use this visual representation of data to better understand your customers and prospects, their purchasing behavior, and achieve higher response rates from your e-marketing campaigns. Other examples may include risk management for selling insurance policy based on crime rates, or finding the best location for your retail business or telecommunication network coverage based on population density.
Analyzing the data stored in your databases for segmentation is the key to sending the right message to the right people, but reviewing large amounts of data can be challenging and time-consuming, and it can be difficult to spot meaningful patterns and groupings.
Linxoft offers geographic information system (GIS) solutions to enable you to view data from your corporate databases on a map. This visual representation displays information geographically, making it easier to profile your customers and prospects. It can visually answer questions related to location, proximity, conditions, trends, and patterns.